Reliance Industries partnerswith SHRM India to host Asia's Foremost HR Tech Conference in Hyderabad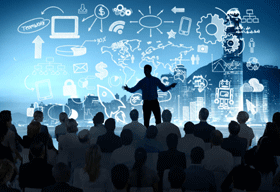 Johnny C. Taylor, Jr., SHRM-SCP, President & CEO, Society for Human Resource Management to speak at the 4th edition of the Conference
New Delhi,12th April 2018:
SHRM India in partnership with Reliance Industries Ltd. will be organizing the HR Technology Conference& Exposition. Being the 4th of its kind,#SHRMTech18 is set to transform Hyderabad into a melting pot of revolutionized HRTech trends.
Dates: 26 & 27 April, 2018
Venue: Hotel Novotel, Hyderabad
Technology has become an indispensable part of our everyday life and has greatly come to transform and enhance the way we live and work. The two-day conference allows you to witness the latest HR tech innovations where professionals and tech trend-experts gather to create a thriving tech-led HR to keep organizations future ready. With forecasted spikes in workforce, every organization must gear up with only the best HR tech trends, which enable quicker decision making, accurate predictions and equip professionals with the necessary tools to meet specific needs and goals. It's time to talk about the best HR practices and unveil what's next - #SHRMTech18.
• Network with 1200+ HR & technology Professionals
• Listen to 70+ global speakers
• Witness 25+ Demos & Knowledge Sessions conducted
• Get involved just like 400+ other organizations
•Interact with 150+ CHRO's, CXO's, CTO's and CIO's
Captains of industry and HR world will discuss ways to bridge the gap between HR and technology.Some of the esteemed speakers for the conference this year are:
• Johnny C. Taylor,
President & CEO, SHRM
• William Tincup,
President, Recruitingdaily .com
• VineetNayar,
Founder Chairman, Sampark foundation & former CEO, HCL Technologies
• Stacey Harris,
VP, Research and analytics, Sierra
• Ashwani Prashara,
CHRO, Reliance Industries Limited
• Vaibhav Goel,
Head - HR Platform 2.0, Reliance Industries Limited
The speaker line-up also includes:
• Niel Nickolaisen,
Chief Technology Officer at O.C Tanner
• Saurabh Govil,
President & CHRO Wipro
• Shraddhanjali Rao,Head of Human Resources, SAP India
• Manu N Wadhwa, Head HR & Services, Coca-Cola India and SW Asia
• Andrew Mitchell, CEO, Rewardian
• BD Biddappa, Exe. Director - HR, HUL & VP, HR, Unilever South Asia
• George Oommen, Director – HR Technology &process consulting at Cognizant
• MamtaVegunta, Director- HR at Invesco Hyderabad
• Saurabh Bhatt, Founder and CEO at A5E consulting
• Prithvi Shergill, Ex-CHRO, HCL
• Amol V Pawar, Founder consultant, NUEST consulting
• Sunil Gupta, Regional sales manager at cornerstone On Demand India

Speaking about the conference, Ms. Achal Khanna, CEO, SHRM India and Head Global Business Development, said, "Today technology has become an indispensable part of HR practices for companies across the globe. SHRM HR Tech Conference brings together HR professionals and tech trend-experts with plethora of knowledge to keep pace with the leading edge technology. After the first three extremely successful tech conferences, the fourth edition is designed to provide a platform for experience sharing and discussions on the most path-breaking innovation and tech trends in HR."

"Expert led sessions and workshops will deliver greater understanding of the role played by technology and the scope and impact it has on Human resources domain. The suggested HR tech trends will enable quicker decision making, accurate predictions and equip professionals with the necessary tools to meet specific needs and goals", she further added.

Ashwani Prashara, CHRO Hydrocarbons, Reliance Industries Limited, said, "RIL's partnership with SHRM Tech Conference is an unfolding saga of RIL's strong belief in leveraging emerging technologies to advance the People Agenda across the HR value chain. The SHRM Tech'18 is a great forum to share few case studies how HR technology is being embedded in every touch point of the employee experience"

Vaibhav Goel, Head HR Platform 2.0, Reliance Industries Ltd., Said, " Leveraging AI and Machine Learning techniques, RIL HR is making strides to understand better the latent employee needs, and creating hybrid solutions to address them alongside improving organizational effectiveness. These solutions are at the intersection of the technology and human centric- design. RIL HR 2.0 Platform is one such unique initiative where we attempt to transcend traditional silos and build teams around Big Data, AI, bots & automation, DevOps and Microservices to co-design and co-create HR solutions for the future. The endeavor remains to deliver a compelling employee experience across the Moment of Truths and reinvent HR to ensure enduring business value".

The conference will dwell on some of the most important issues that have a direct bearing on how HR is practised. From the role of technology in organisational transformation and enhancing employee experience to steering the organization through digital transformation – the special talks and sessions from industry experts and thought leaders will deliver deep insights on the challenges and opportunities facing the practise of HR. From application of design thinking in HR technology to artificial intelligence, IoT, chatbots, VR and AR every technological innovation and disruptions in the field of HR will be discussed and debated through the various sessions for maximum learning and productivity.

This conference brings together top HR industry experts, HR industry influencers, Business experts & decision-makers, HR professionals and HR technology creators, creating the perfect networking and educative platform for the creation and exchange of ideas.
To know more, visit us at www.shrmtech.org