HyperX Alloy Elite RGB: Colourful & Personalized Gaming Experience at its Best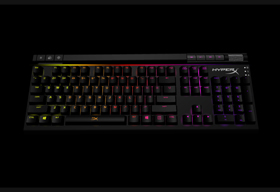 Priced at Rs. 13,600, the HyperX Alloy Elite measures 44.4cm in length, 16.89cm in breadth, 3.89cm in height, and weighs close to 1500gm (including the 1.8m long braided cable). Keeping in mind the intensity involved while gaming, the keyboard is made
from a solid steel frame and is equipped with dedicated media buttons and a volume control roller at the top right, and shortcut keys for accessing brightness, lights, and gaming mode at the top left corner. The Alloy Elite also comes with a detachable arm rest, giving a very comfortable feel for users who game for long durations. Extra set of keycaps for W A S D and 1 2 3 4 (most common control keys in almost every game for controlling movements), along with a key-cap remover also come as part of the Alloy Elite keyboard.

Offering a wide array of customization options, the Alloy Elite offer three types of switches to choose from – Cherry MX Blue, Cherry MX Brown, and Cherry MX Red. Additionally, when integrated with the HyperX NGenuity software, the keyboard offer a gamut of never-seen-before customization options such as setting-up lighting and effects both through the key board as well as for individual keys. This lighting can further be customized into 7 different patterns – Wave, Solid, Breathing, Trigger, Explosion, and HyperX Flame.

Just like any other high-end keyboards, the HyperX Alloy Elite also comes equipped with in-built memory through which the users can configure up to three profiles, each having a different set of lighting effects, controls, and features. It is equipped with a USB 2.0 for better connectivity with other devices and offers a 100 percent Anti-ghosting functionality. Despite macros being banned or being looked-down by most professional players and top-tier tournaments, the Alloy Elite RGB offers the macros functionality as well, which is quite a surprise.

Overall, the Alloy Elite RGB justifies its high-price through an exquisite gaming experience to the users. The feel of the keys when pressed is soft and has almost nil chances of keys getting stuck while gaming. There is zero delay in the input-output functionality, which a very important aspect in every game. A striking aspect we can look forward to is HyperX upgrading its USB 2.0 to 3.0 in its upcoming products, keeping in mind the powerful requirements that few high-end games demand.